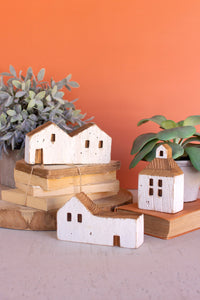 Set of Three Wooden Houses
Build a village with this set of three white wooden houses. Perfect on display or in a collection of tiny houses. Put them in your bookshelf nooks, along your mantle, or in a cluster.
Large: 7" x 2" x 3.5"t, Medium: 6" x 2" x 3.5"t, Small: 3" x 2" x 5"t
Set includes 3 pieces
SET OF 3
Wipe clean with a lint free dry cloth.
---
We Also Recommend